Other Things offer a wide range of eye-catching, innovative and exciting household items. Our products range from a simple table clock to exotic rugs. A premium source for design-oriented home accents, gifts and other things……

Rug Types By Construction

Hand-Knotted Rugs
In a hand-knotted rug, wool yarn is hand tied around the warp threads of a weaving loom to form the pile of the carpet. It can take many months to produce one rug. First developed in Persia, it is the same process that has been used for hundreds of years. These rugs are "programmed rugs" which means there are similar designs and colours available in different sizes. The designs are generally variations on classic designs, and are often carved by hand for an embossed look. The rugs are made using a variety of weaving and knotting techniques that are dependent on local customs. The Persian knot is the most common. Other Things carries hand-knotted rugs from India and China.

Hand-Knotted, Persian Rugs and One-of-a-Kind rugs
Unique rugs that are one-of-a-kind. These rugs are made using a variety of weaving and knotting techniques that are dependent on local customs. The Persian and Turkish knot are the two most common. Other Things carries hand-knotted one-of-a-kind rugs from Iran, China, Nepal, India, and Pakistan.
Top

Hand-Tufted Rugs

In a hand-tufted carpet the yarn is applied to a woven base by hand, using a tufting tool to form the pile of the rug. The back of the rug is then sealed with latex to secure the yarn, then backed with a woven cotton material. The carpets are hand serged and sometimes hand carved. A tufted carpet takes less time to produce than a knotted rug, and from the top, it is often difficult to tell the difference. Other Things carries hand-tufted rugs from India.

Machine-Made Rugs
Machine-made rugs are woven on electronic computer assisted looms. The pile is created through a sophisticated machine process. Synthetic yarns are most common, but some of the finest machine-made rugs are wool, and are often difficult to tell from handmade rugs. Colour and design variations are often programmed into the designs, and hand knotted fringes can be added for a more handmade look. Designs range from traditional Persian reproductions to contemporary and modern designer rugs. Other Things carries machine-made rugs from China, Egypt, Bulgaria, Belgium, Turkey and the USA.

Braid and Sisal Rugs
Braided rugs are rugs in which bands of solid or variegated braided material, usually cotton, form a pattern which is consistent from rug to rug.
Top

Sisal, Seagrass Rugs
Sisal has been used in rug making for thousands of years. It is a tough, durable, natural fiber, that stands up well to traffic. Sisal is finer, and easier to bleach and dye than seagrass, making it a good choice if you're looking for a more neutral rug. There are also synthetic sisal rugs available.
A Short History of Oriental Rugs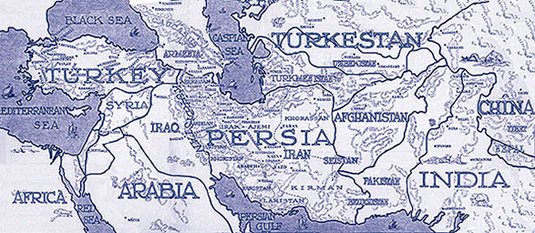 The subject of oriental rugs is such a vast and exciting area that we would recommend a trip to the library or a bookstore for a look at one of the many excellent books, magazines or scholarly publications devoted to rugs. There is also a wealth of information on the World Wide Web.

A few recommendations would be:
| | |
| --- | --- |
| | Complete Illustrated Rugs and Carpets from Around the World" Edited by Ian Bennett, |
| | Publisher: A&W Publishers, Inc. New York |
| | The Splendor of Persian Carpets" by E. Gans-Ruedin, Publisher: Rizzoli, New York |
| | Hali Magazine, (The International Magazine of Fine Carpets and Textiles), London, UK |
With the above in mind, Other Things would like to offer some general information on oriental rugs to help assist you in your understanding of this fascinating subject.

Top
The Beginning of Oriental Rug Weaving
The place of origin of the oriental carpet is thought to be Iran (then Persia), a powerful empire in the Middle East, dating from 1502-1736. There is some evidence of much earlier woven flooring materials, but the information is sketchy, and not directly related to the carpet manufacturing that developed in the classic Persian period.

During the classic period, Iran attained its artistic peak, and court rug weaving flourished. Persian carpet factories in cities like Kerman, Isfahan, Kashan and Tabriz were established. Iran is the source of most motifs, patterns and traditional coloration produced in rugs throughout the world today. Over the centuries, Persian carpets have become treasured heirlooms passed on from one generation to the next.

Persian carpet exports began in the 16th century to places such as Europe. Starting in the 1850s, American, English and German firms established new factories in Meshed, Tabriz, and Kerman.
Oriental Rug Construction
Sheep's wool is the most commonly used fibre for oriental rugs. Raw unprocessed wool is separated for its long white fibres, then washed and carded before spinning and plying. Some tribal or village weavers may still do this by hand, but today modern machines are mostly used to create strong and uniform yarns.

| | |
| --- | --- |
| | The yarn is then dyed in a variety of colours using either vegetal material such as insects and |
| | roots or modern chemicals. |
| | The basic foundation of all oriental rugs is the warp that can be cotton or wool. Warps run the |
| | entire length of the rug and make up the fringe at the ends. |
| | The weavers tie row by row of knots onto the warp. Weft threads are woven in between each |
| | row. The weavers pound down the wefts with a steel comb, locking each row of knots in |
| | place. |
| | The weavers often work with a pre-drawn specific pattern, or the design is improvised from |
| | memory in the case of tribal rugs. |
Knot Counts
The knot count of a rug indicates the density of knots in the pile. A higher knot count usually indicates a higher quality rug. However, factors such as design, origin and wool type also are also important. Even some very expensive rugs can have a low knot count.
Other Things is Against Illegal Child Labour
In some areas of the world, the use of child labour is a very disturbing problem. Other Things is a strong supporter of the elimination of illegal child labour. Other Things supports the "Kaleen" program. Kaleen is an Indian government and carpet industry initiative to eliminate illegal child labour in the carpet weaving industry of India.The Kaleen label on a handmade carpet ensures that the carpet was not made with illegal child labour. Within the Kaleen program, the Indian carpet industry contributes a part of their export earnings to a weavers' welfare fund for: welfare of the weaver community; education of children; Medicare for weaver families; and vocational training of children.
All of the handmade carpets for sale at Other Things are free of illegal child labour.
Top
Carpet Care Tips
Oriental rugs produced from wool are fairly easy and economical to maintain. Wool is very resilient, cleans well, and stays clean for a long time. For area rugs made from man-made fibres, the procedure is similar with some manufacturers having special cleaning instructions.
Vacuum oriental rugs regularly to prevent dirt and grit from sifting into the roots of the fibres. This is where harsh damage can occur. Flip the rug over and vacuum the back as well. Smaller rugs can also be hung up outside and beaten carefully to loosen collected soil. Take care to avoid the fringe area when vacuuming. Damage to fringes can reduce the value of a rug and can be costly to replace. The use of top quality padding under your oriental carpet is also recommended to provide protection from dirt, wear and slippage. Other Things carries a wide range of padding.
Spills - Don't Panic!
All rugs eventually fall victim to a spill. Do not panic. Here is where speed is important, which means if you are reading this to address a recent spill.... It may be too late. Immediate attention can make a great deal of difference to the seriousness of a stain.

The following is a useful procedure for spills. First, quickly blot up excess liquid with a towel. Be sure not to rub! For water based spills, use a mild, bleach-free detergent diluted with water. Apply using a clean cloth and always work from the edge of the spot to the centre. Rinse with water mixed with a small amount of white vinegar. Blot and allow to dry completely. A hair-dryer on medium setting will speed drying, or try elevating the rug to allow air underneath. Spills that are oil-based are a little more difficult to deal with and may require a solvent based cleaning agent.
Tears, Holes, or Worn Spots
A skilled professional rug repairer can often repair physical damage like tears, holes and worn spots. This type of damage should be repaired promptly before further damage can occur. Ragged fringes or loose binding can also be repaired. Other Things has craftspeople that can provide this service as well. Rug cleaning and repairs are all done centrally so we have full control over the workmanship